Snake Chain Collars for Dogs
An ideal dog show accessory.

"Ring 5" Snake Chains Are Made Of Solid Brass Then Coated.
Our Currant Stock Of "Ring 5" Snake Chains come from USA.
LISTED AS R11

The other Snake Chains are from the same overseas manufacturers of Name Brand Products,
There by cutting out the costs associated with the retail supply chain.
LISTED AS PH11

Ring 5 Snake Chains are Hexagon shaped not Round,
Medium Snake Chain is 4mm x 3.5mm approx,
Heavy Snake Chain is 6mm x 4.5mm approx,
* Never leave a Snake Chain on a dog unsupervised.
* Never use a Snake Chain on a puppy until they are at least 6 months old.
This is not an obedience choker...Not Recommended for Dogs that Lurch
Snake Chain should be worn high on the dogs neck , right under dogs chin and behind ears..
These Snake chains are mainly used in the Show Ring to add that extra bling,
Not Recommended for everyday use.
Snake Chains are better than Snake Chain collars for obedience training
How to size your dog for the Snake chain:-


CHAINS LISTED ARE MEASURED FROM END TO END

Please measure the length of your dog's neck circumferance and add from 5 to 8cm (2 to 3inches) for appropriate collar length.
These beautiful Snake chain choke collars add a touch of class in the show ring.
The Snake Chains are made of Solid Brass then Chromium plated with a high-gloss surface.
High Gloss surface is achevied by cleaning the raw chain from metal debris and oil, but also through a process which gives the collar a special surface polish.
This process ensures that the nickel and the chromium layers adhere especially well and the collar has a long lasting protection.
Elaborate processing methods and quality control guarantees an excellent chromium plating,
Damage however, occurring to the surface of the chain by external influences, can make the metal core vulnerable to water ingress and variation in temperature.
Item will most likley be sent by Aust Post by Reciepeted deivery and with tracking.
THIS ITEM IS SENT BY WAY OF RECEIPTED DELIVERY.
YOU WILL BE REQUIRED TO SIGN FOR ITEM AT POST OFFICE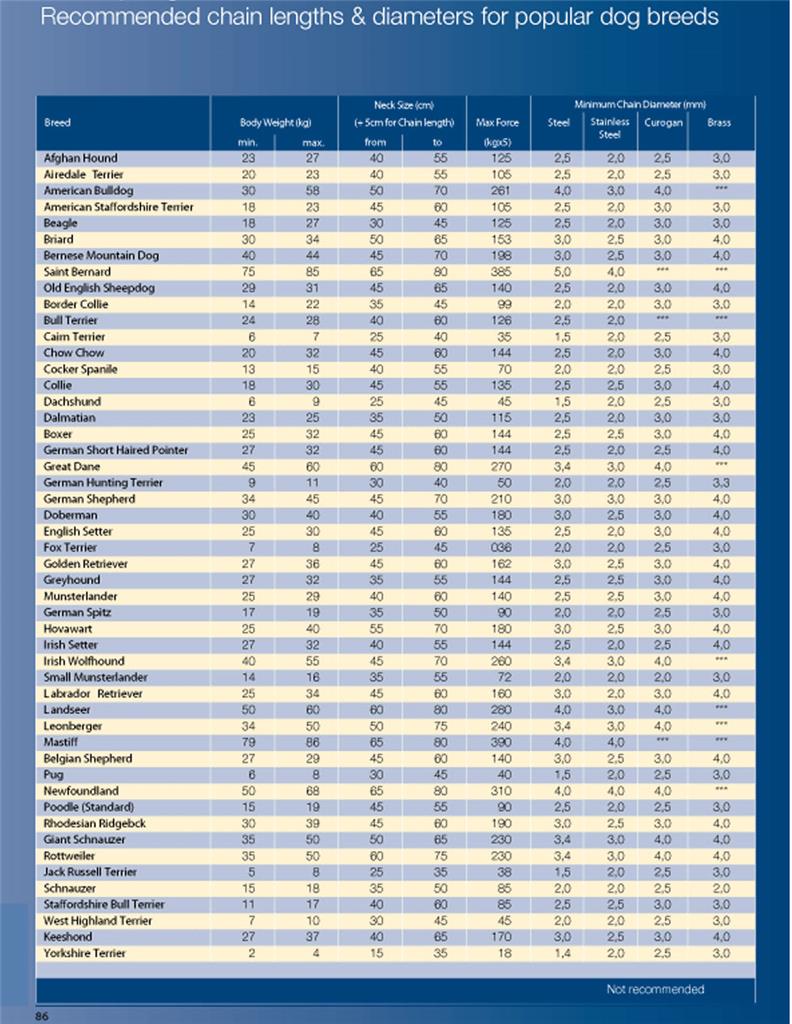 The thickness measurement is taken from the widest point of the snake Chain.
Example the 4mm x 3.5mm 6mm x 4.5
Brisbane : :- Local pickup can be arranged Contact seller Prior to Purchase for arrangements.
ITEM IS SENT BY RECEIPTED DELIVERY
IF YOU ARE NOT HOME AT TIME OF DELIVERY ,
YOU WILL BE REQUIRED TO COLLECT ITEM FROM POST OFFICE

WE RESERVE THE RIGHT TO SEND MULTIPLES BY COURIERS,
IF YOU ARE NOT HOME AT TIME OF DELIVERY ,
COURIERS WILL LEAVE CALLING CARD FOR YOU TO ARRANGE RE-DELIVERY.
If Paying by Bank Transfer Please be sure to identify your payment,
use your ORDER NUMBER or ITEM NUMBER ONLY as the ref.
Thanks Heaps & Happy Trading!