Sprenger Gold & Chrome Plated Steel
Herm Sprenger round link check chains are the industry standard in dog correction.
* Never leave a check chain on a dog unsupervised.
* Never use a check chain on a puppy until they are at least 6 months old.
* Check chains are better than flat collars for obedience training
Item will most likley be sent by Aust Post by Reciepeted deivery and with tracking.
Check chains are better than Snake Chain collars for obedience training




How to size your dog for the Check Chain:-
CHAINS LISTED ARE MEASURED FROM END TO END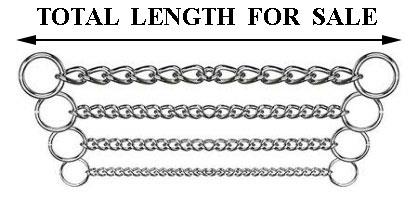 Chromium
plated collars by Herm. Sprenger stand out due to the high-gloss surface.
Sprenger achieve this result by not only cleaning the raw chain from metal debris and oil, but also through our own process which gives the collar a special surface polish.
This process ensures that the nickel and the chromium layers adhere especially well and the collar has a long lasting protection against rust. The durability of the nickel coating is additionally tested through a "bending test" performed on the rings.
If the nickel coating behaves as flexible as required and the coating does not flake off then the next step of the production, the manual processing of the chromium plating with the use of a frame follows.
Elaborate processing methods and quality control guarantees both an excellent chromium plating, and combined with the prior process of nickel coating also provides a dual anti-rust protection.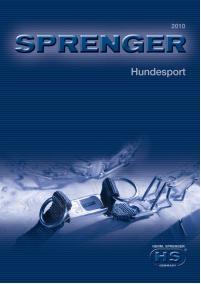 Damage however, occurring to the surface of the chain by external influences, can make the metal core vulnerable to water ingress and variation in temperature. It is for this reason that Sprenger cannot undertake a rustproof warranty for any of our products made of plated steel, regardless of the surface finishing.
Sprenger nickel and chromium baths are monitored constantly by a laboratory and are disposed of according to the current environmental laws and regulations.
Herm Sprenger Check Chains are excellent training aids for dogs
.
Suggestion chart, Dog sizes may vary from chart.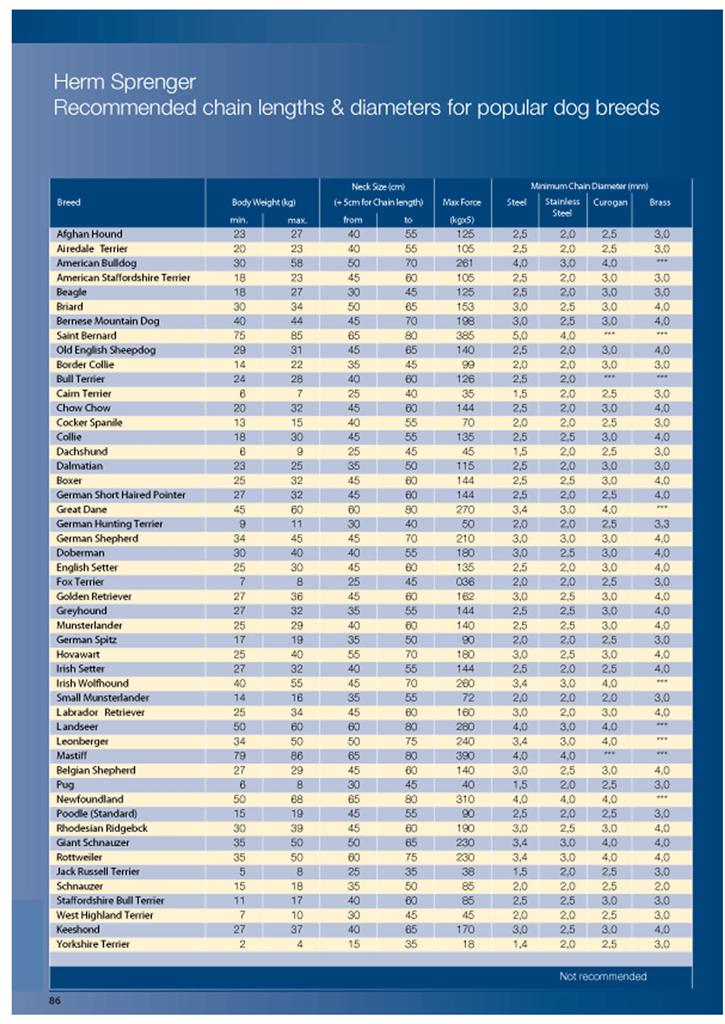 Brisbane : :- Local pickup can be arranged Contact seller Prior to Purchase for arrangements.
ITEM IS SENT BY RECEIPTED DELIVERY
IF YOU ARE NOT HOME AT TIME OF DELIVERY ,
YOU WILL BE REQUIRED TO COLLECT ITEM FROM POST OFFICE

WE RESERVE THE RIGHT TO SEND MULTIPLES BY COURIERS,
IF YOU ARE NOT HOME AT TIME OF DELIVERY ,
COURIERS WILL LEAVE CALLING CARD FOR YOU TO ARRANGE RE-DELIVERY.

If Paying by Bank Transfer Please be sure to identify your payment,
use your ORDER NUMBER or ITEM NUMBER ONLY as the ref.
Thanks Heaps & Happy Trading!
This product does not have any reviews yet
Be the first to review this product