SPARKLE Dog Training Treat Waist Bait Agility Bag Puppy Pet Pouch
PLEASE NOTE
WHITE POUCH DOES NOT SPARKLE
WHITE POUCH HAS SNAKE SKIN TEXTURE
Buying 10, 20 or 50 of 1 COLOUR ONLY , May Attract a Discount.
This Quality , Affordable SPARKLE Treat Bag is the Answer to your Obedience Training and exercising of your Pet.
The Pet Homes Fashionable Treat Pouch is Normally worn around the waist.
This Pet Homes Treat Pouch comes with 1 storage areas.

Main Pouch Opening is Velcro Secured, to help keep everything from falling out ..
To Open Main Pouch simply pull on the Lid and the bag will open, It will not stay open while in use.
NO Mechanical hinges that would break, Does not require Lubricating.

Vinyl Pouch area can be used to store Treats withe the added Sound Of Velcro.
So Your Pet will keep its eyes on you while training.
Can also be used for other storage like Keys, Poop Bags,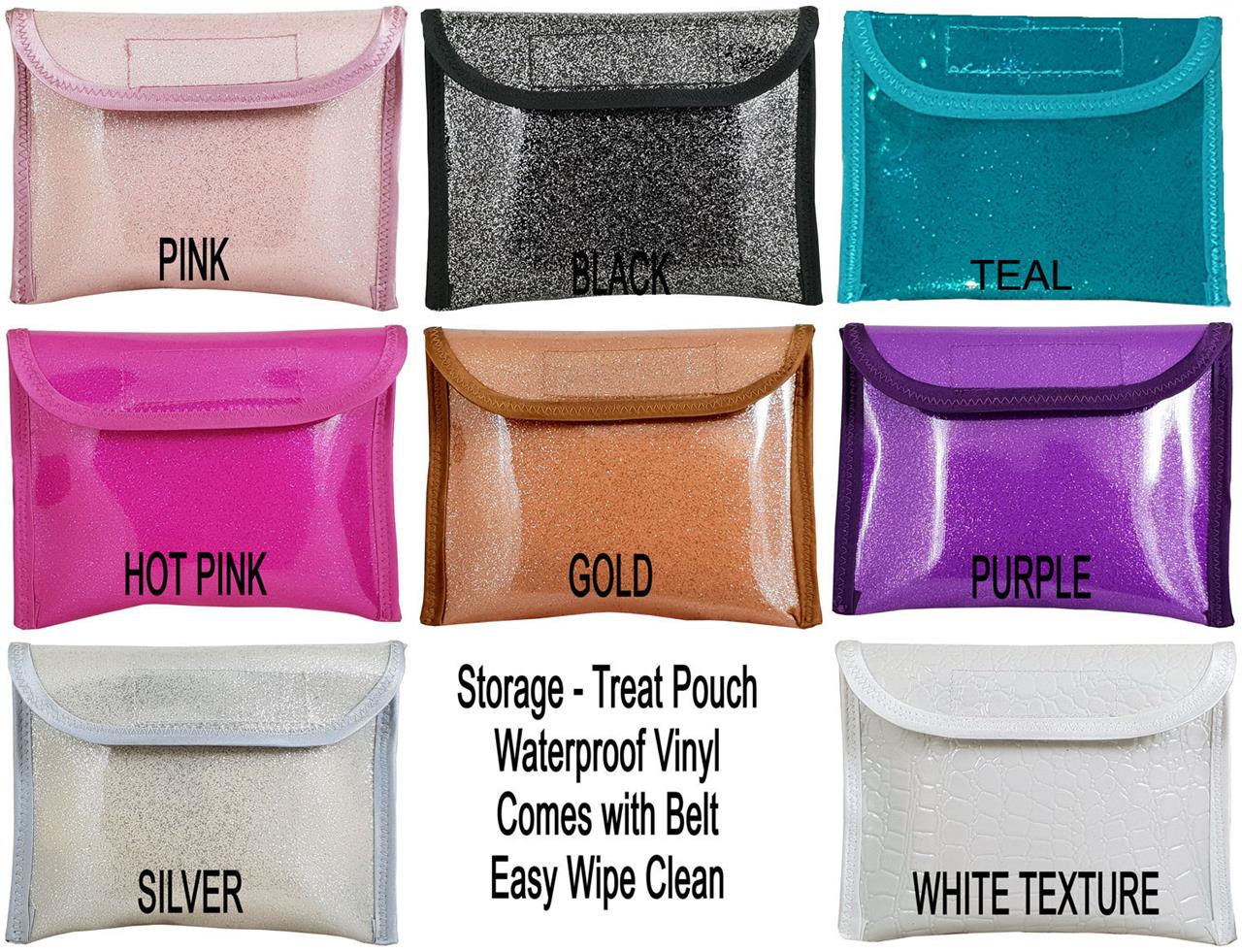 PLEASE NOTE
WHITE POUCH DOES NOT SPARKLE
WHITE POUCH HAS SNAKE SKIN TEXTURE
Dogs naturally want to do behaviours that are enjoyable for them, such as eating, digging, barking and playing. We can teach our dogs to choose behaviours that fit in with a human family, like lying calmly on their bed, walking politely on lead, and coming to us when called, by making these even more rewarding for them.
Every behaviour has an immediate consequence. Teach your dog that desirable behaviours have rewarding consequences (food, pats, play or praise), while undesirable behaviours do not get your dog the fun they're after. It's more fun to pay attention to the human than anything else!

If a behaviour, such as jumping up, is ignored, and no reward is given, the dog will be less likely to practice that behaviour in future. Your dog will learn that the way to get pats, praise and attention is by sitting down!
Training Tips.
Training should be fun for you and your dog!

Teach your dog desirable behaviours.

Like children, dogs aren't born with manners; they are opportunists who will take advantage of every situation unless they are trained otherwise! Help them learn what the rules are and reward them for making good choices.

Set your dog up for success.

Give your dog every chance to succeed, don't expect him to understand simply because you have shown him a few times. Teach him in lots of different situations and in different environments - this includes familiar settings (e.g. inside your house, and your backyard), then build up to unfamiliar settings (e.g. on a walk, at your local dog park, or the beach). Dogs are not "naughty" out of spite, but they do get confused if they haven't done enough practice.

Practice – each time you interact with your dog you teach them something, so try to make sure each interaction is positive!

Finish each session while your dog wants more.

Dogs, like kids, have short attention spans. Short, frequent training sessions will be more successful!

SPARKLE TREAT BAG SIZE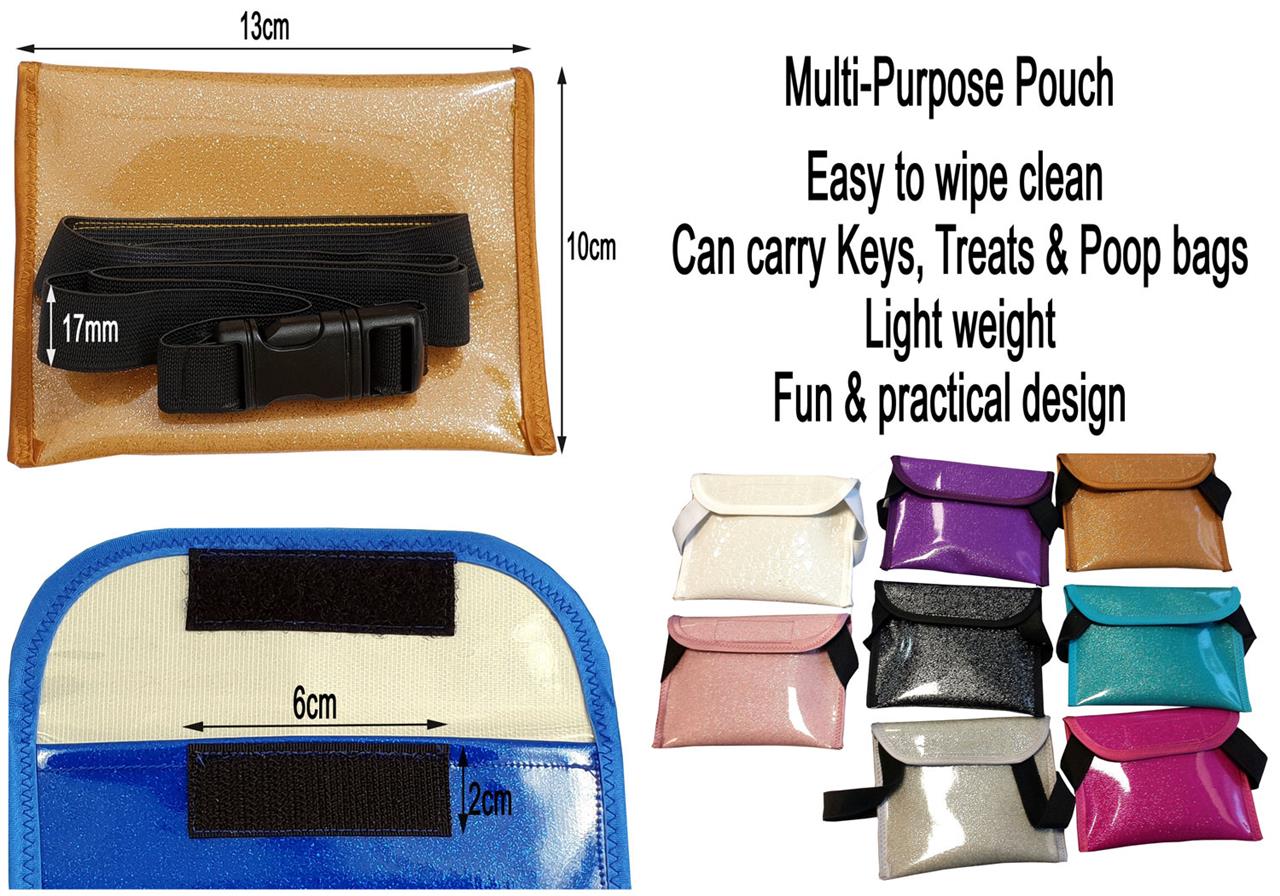 Buying 10, 20, 50 or More of 1 COLOUR ONLY , May Attract a Discount.
If You Need a Mix of Colours , Let Us Know.
No Reply, Means We Didn't Get Message.

In the Package:
1x Dog Training Treat Bag with Elastic Belt Sewn on,
Note: Dog Food is not included.
FEATURES:
Training Pouch
-Brand New and High Quality
- Made from High Quality Metal Flick Vinyl Material
- Do not Machine wash, Recommend Hand Wipe Clean Only .
- Elastic Belt :- belt is sewn onto pouch, can not be removed:- 17mm wide x Will Stretch to 170cm
- Premium Buckle. Durable Clip allows you to attach it to your waist
- Bag Size:- 13cm x 10cm
- Weight: Approx :- With Belt Approx 75
- Fast Shipping from Brisbane !!
We have taken these pictures ourselves and believe them to be as accurate as possible.
However, we have no control over the colour inconsistencies on monitors,
The exact colour of our products you see on your screen
may not be an accurate depiction of the actual colour.
Screen images should be used as a guide only.