Kit Includes:-
Digital Black Thermostat,
8" Lamp Shade,
1 x 100watt White ceramic bulb
This NEW improved Black Model Will Control Up to 500watts
100% brand new Digital Thermostat J900

PID technique, accurate, temperature adjusted per 0.1°C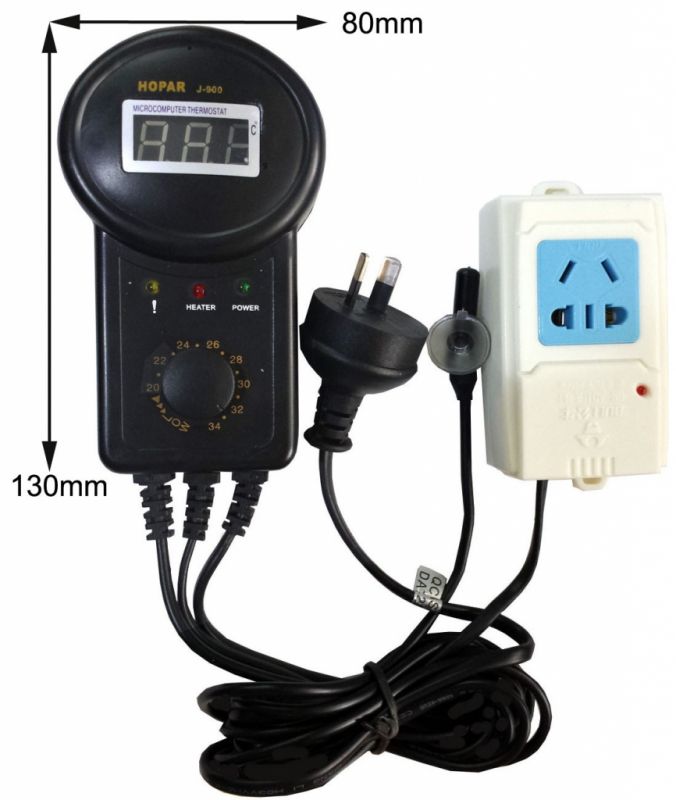 Application:
Can be attached (by 2 x 3M tape) on the glass, or stand on the table, or be hung on the wall
Perfect for reptile aquarium and terrarium.
SCREEN CAN BE 1200mm AWAY FROM POWER POINT
Specifications
MOST IMPORTANT THING OF ALL:- Place the thermostat probe inside your enclosure at the point/ level / height you want heated,
The thermostat will turn your heat source on or off according to detected tempuature.
Brooder Aluminium Lamp Shade for Reptile Lamp or Chicken Brooders
Lamps Shade Clamp lets you use shade in a Multi Directional way, just point in the direction you need the heat to go.
Item Description
PLUS Flat profile, 1 X 75W Black screw-in ceramic heat lamp bulb
Unlike other heat lamp bulbs, ceramic heat lamps generate only infrared ceramic radiant heat – not light. This not only saves you energy, but also prevents keeping your animals awake at night, simulating a natural cycle and promoting greater health, growth and vitality. Because no energy is wasted as light, they are much warmer than a standard light globe of similar wattage and give off intense radiant heat very quickly – perfect for basking animals. Ceramic heat lamp bulbs also last much longer than conventional lighting globes which helps offset the upfront costs. Their compact shape and screw-in fitting allows these infrared lamps to fit inside most standard reflector light fittings without protruding like other ceramic heat emitters.
Item Description
Wattage 75
Standard ES screw fitting
240 volt
Heat emitters give off heat but no light so they do not interfere with the normal day and night cycles important to your pets.
Black Reliable ceramic element.
Ceramic heat emitters last much longer than conventional lighting globes which helps offset the upfront costs.
They give off intense radiant heat very quickly which is great for basking species.
These compact dome shaped emitters are great as they fit inside a standard reflector light fitting and do not stick out like the larger flat ceramic heat emitters do.
Their shape sees a greater concentration of heat in a more defined location.
NEW items in original packaging - never been used
Heat Emitter Size
105mm Long From Tip to Flat End
89mm Wide at the Flat End
31mm Shaft to Screw in Fitting
Brisbane: Local pickup can be arranged Contact us for arrangements.
I Will post as soon as funds have cleared. All Items Leave within 48 Hours of Payment.
Please be sure to identify your Win with payment, use your SURNAME as the ref ONLY.
We will invoice you via email within 24 hours of completion of this order, and request that you reply with your name, and delivery address.
This product does not have any reviews yet
Be the first to review this product