We are proud to Offer for SALE

20 X LS, LARGE SWING

Fun Toys for Your Birds
" WE ARE THE CHEAPEST IN AUSTRALIA "
Your bird will look forward to Playing with the variety of Colourful Toys.
Great Present for Your Pet Lover Friend!
We have put in a huge assortment of COLOURFUL BITS into this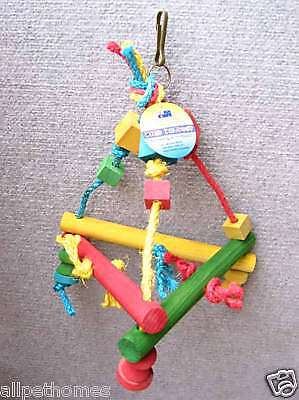 Photos are not to scale.
NON TOXIC AND ARE EDIBLE IF CHEWED.
THE ONLY METAL IS SNAP HOOK AT THE TOP,
The Highest Quality Toys you will ever see, Guaranteed!
<><>
EACH TOY SUITS Cockatiels, Conures, Small Greys, Small Amazons & other similar size birds
TOYS DESCRIPTION
LS is The LARGE SWING
300mm( 12") High
150mm ( 6" ) Wide,
3 x 20mm (1") Wooden Round Dowel